"We want to bring hospitality to health care," Three Crosses Regional Hospital Co-General Partner Bob Pofahl said about Las Cruces' newest hospital.
The 46-bed, 100,000-square-foot facility, located at 2560 Samaritan Dr. near the site of the old Las Cruces Country Club, opened last September. Bob has been in the hotel business since 1970 and has been involved in $6 billion worth of property development during his career. He explained he is one of five general partners "active in supporting the vision and mission of Three Crosses Regional Hospital."
While the hospital's architecture and design features — including more than 40 pieces of original Southwestern art, two courtyards, and food service provided by Luby's Cafeteria — are "like a resort hotel," its purpose is to provide cutting-edge healthcare "to serve the community and do it well," said CEO John Lanning, who joined Three Crosses in January 2021 after moving from a similar-sized hospital in Nebraska.
"It's about serving the community and having hospital administration working in conjunction with physicians and providers to deliver high quality healthcare," John said. "The physicians at Three Crosses are intimately involved in all levels of the operation. We all work together."  Three Crosses has physician-led teams and a staff in which "every person is essential for our organization to be successful in our mission to serve Las Cruces and the surrounding communities," John said. The hospital elicited feedback from staff and physicians who established their vision to be "the number one choice for healthcare in the communities we serve. Ultimately, our goal is to be a five-star hospital," he said. "We need to raise the bar in healthcare," Bob added. "We're building a new culture in a new facility."
"It takes courage and vision to do some-thing like this," Three Crosses Chief of Staff Karl Koerper said. "A lot of people have got-ten us to where we are now."
An anesthesiologist by trade, Dr. Koerper said he has come to appreciate the complexity of running a hospital and all its components, including members of the medical staff who are vital to a successful operation.
"I take a lot of pride in this hospital," Dr. Koerper said, and other staff members seem to agree with the sentiment. "It's the best," said ultrasound technician Roxana Escapita, and mammography tech Christina Herrera chimed in, "It's a great environment."
"We have a stellar team," said Chief Clinical Officer Debbi Temple, who has worked in healthcare for 15 years. "We're providing a service that's much needed in this community." Three Crosses is "really focused on care," said orthopedic surgeon David L. Doctor, who returned to Las Cruces in 2020 to be part of the hospital's medical team and continue his career of more than 30 years as a physician.
Three Crosses is "the best it can possibly be in terms of the actual care that's delivered," Dr. Doctor said. "They've assembled the A-team at every level." "Three Crosses is committed to quality care and is an amazing place to work," said Roy Rivas, who is the hospital's director of quality control and regulatory compliance and has more than 25 years in the healthcare industry.
John concurred, stating, "I think staff and other members of the hospital team are taking pride in what they're doing at Three Crosses." According to John, part of his job as CEO is visiting with staff and patients at the hospital — "the human beings on the other side of the numbers" — and asking them, "What can we get better at?"
After a long planning and development phase plus delays caused by the pandemic, Three Crosses has ramped up, now accepting most insurances with all the key medical specialties in place, John said. "I hear many positive things about the providers and the care people are getting there," Las Cruces Mayor Pro Tempore Kasandra Gandara said about the hospital.
Three Crosses Regional Hospital provides a wide range of services.
24-hour emergency services and an intensive care unit that includes 24-hour monitoring and acute care
Four operating rooms and a full range of surgical services, including cardiothoracic/cardiopulmonary surgery, gynecologic surgery, orthopedic surgery, spine neurosurgery, podiatric surgery, urological surgery, and general surgery
A full-service laboratory imaging department, including x-ray services, MRI, CT scans, fluoroscopy, vascular ultrasound, and more
A nuclear medicine room utilizing radiopharmaceuticals in the treatment of cancer and other diseases, as overseen by nuclear medicine tech Leah LeCour
Cardiology services, including a cardiac catheterization lab (cardiac cath lab) where minimally invasive tests and procedures are performed to diagnose and treat cardiovascular disease
Orthopedic care and treatment for conditions affecting bones, joints, ligaments, tendons, muscles, and nerves, including sports and spine care and arthritis care
Specialized medicine like urology services that range from outpatient testing to surgical procedures for both in-patient and out-patient care
Three Crosses Specialty Clinic, located in the hospital's medical office building, includes two orthopedic surgeons, two general surgeons, a reconstructive plastic and cosmetic surgeon, three gynecologists, three gynecology nurse practitioners, two spine surgeons, and one internal medicine physician
The Acosta Medical Clinic, located within the medical office building at Three Crosses, offers a wide range of services, including primary and urgent care, and welcomes walk-in patients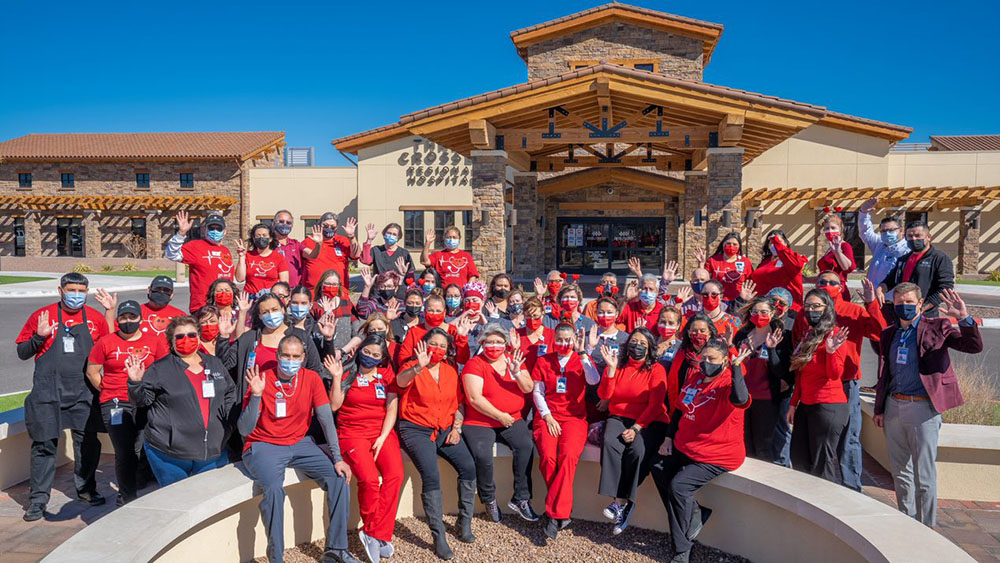 "We've had an endless flow of patient referrals," said Dr. Steven Acosta, who has been practicing medicine for more than 20 years. And because of his roots in Lea County, New Mexico, Three Crosses is providing virtual online medical services in Lovington in the southeastern part of the state. "We're excited to have Dr. Acosta here," Bob said.
The 60,000-square-foot medical office building also includes Southwest Heart, P.C.; Function Therapy Specialists, owned by Occupational Therapist Noel Gonzalez; Southern New Mexico Neurosurgery, LLC; and the office of Paul Saiz, M.D., who is board certified in orthopedic surgery and spine surgery.
Three Crosses has "all the best equipment and great staff," said Brett R. Henderson, M.D., of Southern New Mexico Neurosurgery. Dr. Henderson has 22 years of experience as a neurosurgeon in Las Cruces, El Paso, and Albuquerque, and has been involved with Three Crosses since the early planning stages.
And there's more coming at the new hospital, Bob said, including a second, 80,000-square-foot medical building that is already in the planning stages, a hotel on site, and plans to expand the hospital's telemedicine capabilities. Three Crosses plans to open an outpatient ambulatory surgery center with two operating suites within the next two years, Bob said, including pre-op, post-op, and outpatient surgeries. And, he added, the hospital and medical campus will have many other new services and facilities coming soon.
Three Crosses had nearly 250 full-time employees on staff as of March and hiring is ongoing. John anticipates that total employment likely will grow to 600 to 700 when the hospital is operating at capacity.
For more information, visit threecrossesregional.com.
Story and photography by Mike Cook
Additional photos by Jason Pofahl
Originally published in Neighbors magazine
Posted by LasCruces.com
Please Share!